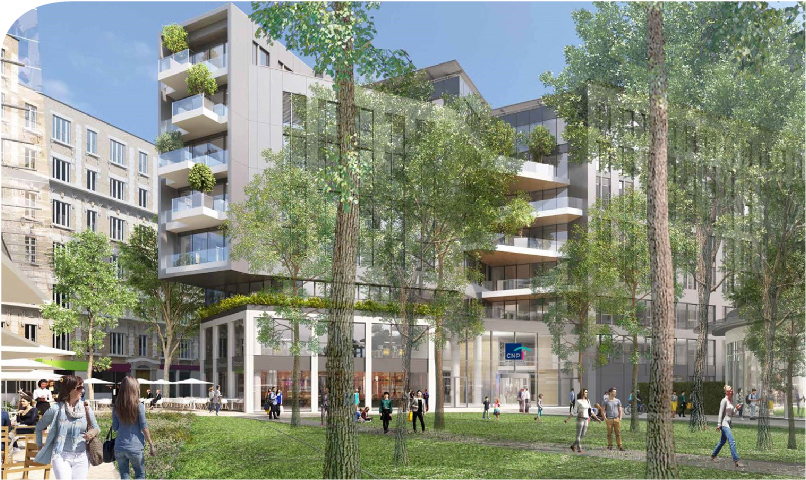 the GOALS of CNP ASSURANCES

iN tERMS OF SMART BUILDING
The first step in its digitalization project is the deployment of the new CNP Assurances headquarters, a 40,000 square meter building in the new "Issy Coeur de Ville" eco-district in downtown Issy-Les-Moulineaux (Hauts-de-Seine). It meets two objectives: to offer Ile-de-France employees a quality working environment and to bring together the teams currently spread over two sites in the Paris region (Paris-Montparnasse and Arcueil-Cachan).
Convinced of the need for a platform based on a real-time multi-system digital twin of the building, the Information Systems Department of CNP Assurances worked closely with the real estate project manager. The challenge: more than a simple "automated and connected" building, with siloed systems and without cross-management making any data crossing very complex, the goal was to build a primarily digital building.
THE CONTRIBUTIONS OF BOS

APPLIED TO THE DIGITAL TWIN
By allowing transverse management of data from different silos (building management systems, security, BIM, IoT, etc.) through a single repository (digital twin), the BOS SpinalCore makes it possible to provide service applications with quality data and unique functionalities in the market, while reducing service operating costs.
"We have selected SpinalCom's Building Operating System to develop our intelligent digital services platform based on a technology for managing a digital twin multi-systems in real time. This solution is truly innovative, open, secure and above all scalable, which ensures the essential links between all IT tools, BIM – IoT, BIM – BMS (OT), BIM and CMMS over the long term."
Discover the benefits of the BOS SPINALCORE for building digitalization