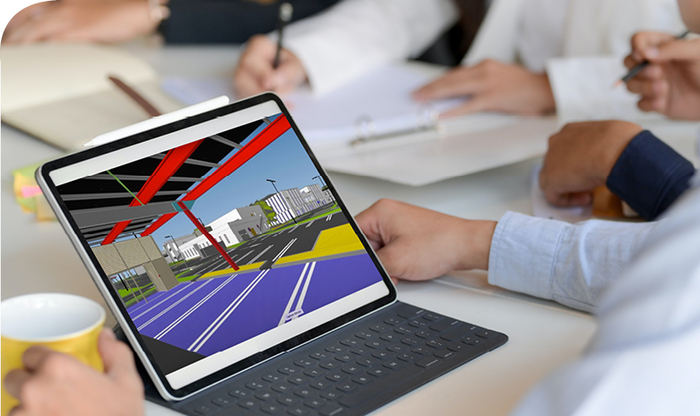 From digital data transformation

to digital twin
"Our challenge was to successfully manage more than 50,000 square meters of buildings in a way that offered the best possible service to our tenants, who come from sectors of excellence, innovation and new technologies. The objective was to allow them to focus on their businesses, without having to worry about building management and maintenance," explains Mohamed Dennoun. It was in the digital transformation that SEML RDL found the solution to a major challenge: harmonizing all the data and work processes of its real estate portfolio. The first step was to centralize the information from its various buildings to make it more easily and quickly accessible. This digitization also makes it possible to keep this data alive and properly updated throughout the life cycle of the buildings. By crossing these different data, it was then possible to create new intelligent information. To do this, it was necessary to combine the data from new buildings with BIM and those from a dozen old buildings, without a BIM model available at the outset, thanks to a modeling exercise.
Digital Twin

and Building Operating System (BOS)
The second step was to integrate this 3D digital twin of the building (BIM O&M), based on available data, with the possibility of updating it later and using it in different ways. "In particular, we had to connect the CMMS, managed by our departments, and make the relationship between the manager, the maintenance subcontractors and the tenants," he continues. "To do this, we had to successfully transform the digital model, which is a detailed description of the building in its state at a specific time, into a dynamic digital twin, representing the living building in real time. It was by integrating the BOS SPINALCORE that we managed to contextualize all the data in such a way as to make the link between the various tools (CMMS, BMS, IoT and others) for real-time and scalable building management, in other terms a more intelligent management."
Digital twin and AI

:

opening the field of possibilities
SEML RDL is now working with SpinalCom on a new project to develop a module to introduce artificial intelligence into building management. "AI will be able to assist and optimize maintenance operations thanks to new solutions based on algorithms and enriched by intelligent learning. Ultimately, this will enable the maintenance business to evolve by making it not only preventive and curative, but also predictive," concludes Mohamed Dennoun.